Xcellr8 Weekend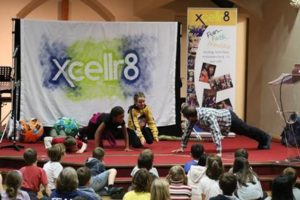 Xcellr8 2020 is 14th -16th February.
Xcellr8 is an annual residential weekend for children aged 8-11, which seeks to help children meet with God as they join with others from around the region. Fun, friendship and faith are all on the agenda.
Our 2020 theme is 'Investig8' where we aim to discover more about Jesus. Xcellr8 has been running for over 15 years and has a maximum limit of 64 children. Xcellr8 has been fully booked in recent years by mid-November, so please don't leave it too late to book!
Please note that children must be 8 years old by the time of the weekend; 11 year olds must be in year 6.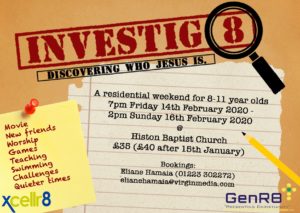 To download the flier click here
General enquiries: Steve Whyatt – 01223 237874 or 0759 729 2239 – stevew@genr8.org
Booking enquiries: Eliane Hamaia – 01223 302272 – elianehamaia@virginmedia.com
More details about Xcellr8 including videos can be found on the Xcellr8 website
2019
The theme for 2019 was 'Imit8' and looked at the life of Jesus and the fruit of the Spirit.
2018
The 2018 theme was 'Communic8' and focused on the Lord's Prayer.
2017
Our 2017 theme was 'The Master Chef' and we looked at meals with Jesus!
2016
Our 2016 theme was 'Rocky Road' and focused on the life of Peter.
What People Have Said About Xcellr8:

'I feel closer to God already!'

'Brilliant weekend according to my two…'

'A big thank you to the Xcellr8 team for giving my children a great weekend.'

'Thank you for such a wonderful weekend! Connie had a fantastic time and can't wait till next year!'

'I would like to thank all the people involved last weekend for making the event so wonderful and God-focused for all the children.'

'Thank you so much for such a brilliant weekend. 'Name' has come back so happy and proud of himself. '

'This is to thank everyone involved so much for running last weekend. Elly had a wonderful time…Everything Elly reported about the weekend seemed so well thought out and clearly blessed.'

'Sam had an absolutely wonderful time at xcelr8 as did the other children at our church who came along. Please pass on a huge thank you from us to the team involved.'

'Thank you so much to you and all the team for organising such a great weekend – Eva had a wonderful time.'
"The children from our church group enjoyed themselves and it was good to hear one NON church child saying she had grown closer to God."

"Jacob said he felt he was closer to God because of going to xcellr8" "xcellr8 is packed full of fun games and activities, dramas, puppets, outings, songs, workshops and much more!  Every day we also had a session where we prayed and thought more about Jesus."

"Eleanor enjoyed it very much. Not only did she enjoy the time but it also showed her how much she needed to know Jesus. As a result of this she made a firm commitment and expressed the desire to get baptised."
Join GenR8?
Are you passionate for children to have the opportunity to hear about the Christian faith? We are and are always on the look out for people who share our vision! Find out more about getting involved in our Assembly Presentation, Inspire, Xcellr8 and Cool Choices teams contact Steve Whyatt
Donate to GenR8 as you shop
If you shop online then please sign up with 'Give as You Live' and GenR8 will receive a donation every time you buy goods from any of the over 4,000 partner stores. Find out more click here .
Partners in Prayer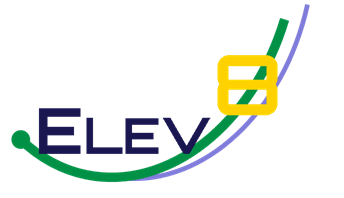 Lifting children, schools & GenR8 in prayer. To partner with us contact Steve Whyatt
Search Our Website